Plastic chests of drawers Rattan
If you are looking for a container for small things and it is difficult to make a choice, take a look at shop.aleana.ua, where you will find what you need. You can buy a plastic rattan chest of drawers from us. Light small-sized furniture will serve as a storage place for small things in the country, in an apartment, office, institution.
Why spend more money or buy used furniture when there is an alternative - a four-drawer prefabricated dresser that is also inexpensive. This is a successful, rational and economical solution.
Chests of artificial rattan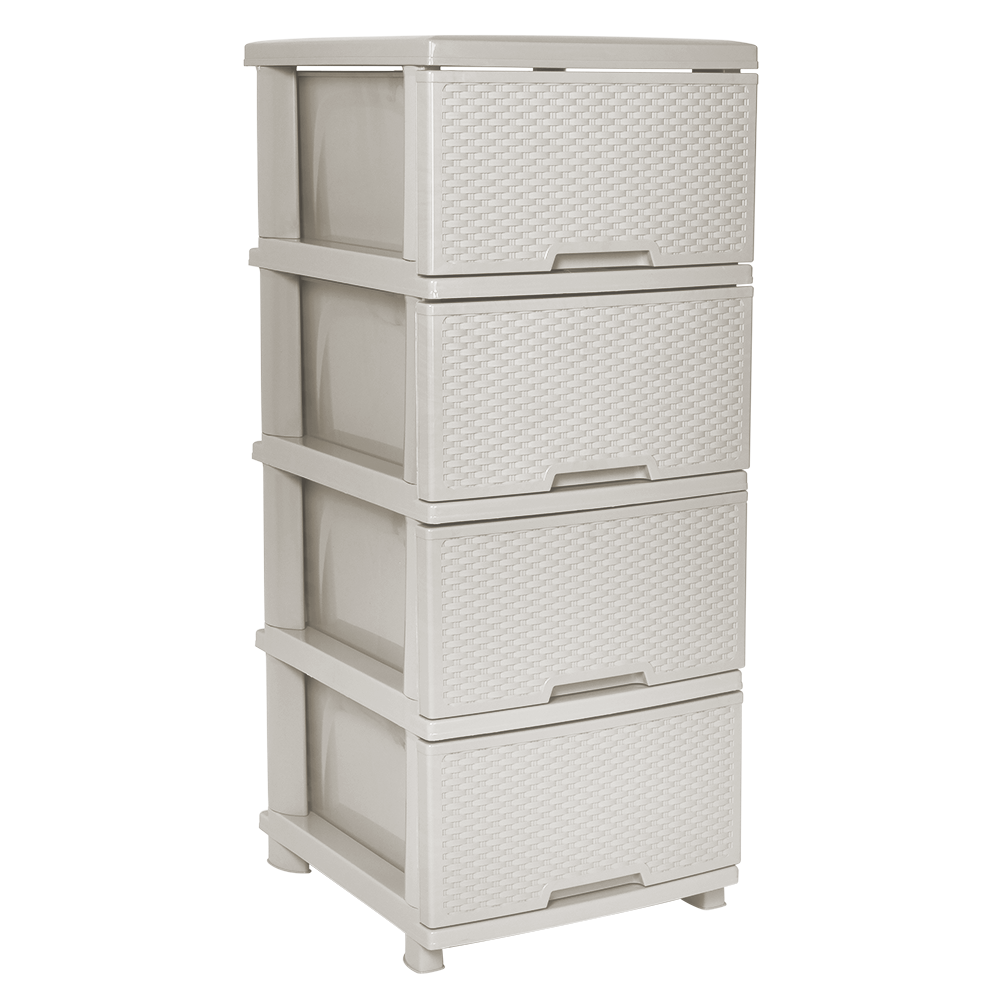 Plastic chest of drawers made in a strict, discreet design will not distract attention, therefore it will naturally fit into any interior without disturbing the harmony. For example, you decide to place it in the kitchen or bathroom, where there are many small things lying around. Solve two problems at once: put things in order and you will know where and what lies.
The chest of drawers, made of durable water-resistant material, has 4 sections, which is convenient for sorting items. Drawers are tightly closed, preventing dust from entering. Therefore, a faux rattan chest of drawers will serve as the best place to store your underwear if you put it in the bedroom. And also, it is suitable for a children's room, where you can put things and toys.
In every house or in the country there is a lot of necessary things that should always be at hand and you will not find more suitable furniture for their maintenance. Just remember that each box is designed for a weight of up to five kilograms. Heavy items such as tools or metal parts require a different storage location.
Wicker plastic chests of drawers are also installed in the back rooms of shops, hospitals and other institutions, because it is practical and hygienic. Light furniture can be easily moved for wet cleaning, and caring for the chest of drawers itself is not a problem. Plastic products are perfectly washed out even without the use of detergents. This will require clean water and a tissue. When assembled, the structure takes up little space, but at the same time, each drawer is quite roomy.
Order plastic chests of drawers Rattan The
Manufacturer of plastic furniture and household items LLC Aleana produces high-quality products that are used in institutions and personal life. Plastic furniture under Rattan is an economy class product. During the design, development and production, the requests of consumers wishing to purchase small-sized dressers are taken into account, an acceptable price is set.
If you decide to buy a chest of drawers, choose the appropriate color: white, beige or brown, and call our managers. They will answer your questions, help you place an order and send the goods to the specified address. We deliver to all cities of Ukraine. In shop.aleana.ua, order other plastic furniture or dressers with decor, for example, in a children's room.
If our products are to your liking, become a regular customer of the online store. Register on the site and subscribe to notifications of new arrivals, promotions and discounts.